Actor Chorus Text (ACT) India weekend workshops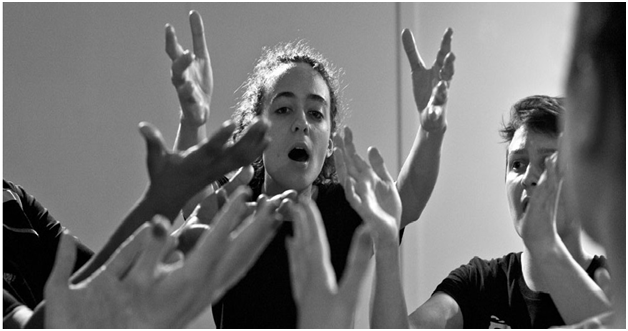 ACT (ACTOR-CHORUS-TEXT) is an original approach to creating ensemble theatre productions that symbiotically interweave music, movement and poetry in telling stories, while redefining the given spatial location.
This training includes dynamic, physical and musical exercise that draws on
elements of GARDZIENICE training
acrobatic partner exercises and counterbalance techniques
the art of gesture with the hands, body & chorus
polyphonic singing of indigenous world music as well as original composition
dynamic speech work and physically charged text interpretation
The workshop gives you an insight of typical examples in stories from around the world, particularly those from texts such as Shakespeare and the Ancient Greeks to generate original ensemble works of theatre.
ACT works together with Moon Fool and international collaborators to bring about a social revolution and present the idea of sustainable living.
DATE: APR 22-24, 2016.
VENUE: SpACE Studio 2nd Floor, above Mast Kalandar Next to Rakhra Sports, Near Sai Baba Temple, Cambridge Road, Bangalore, India
TIME: 10:00 AM
FEES: Rs.4250 (4,750 for last minute)
ELIGIBILITY: AGES 16+
MORE INFORMATION allevents.in