Cristiano Ronaldo Overrated?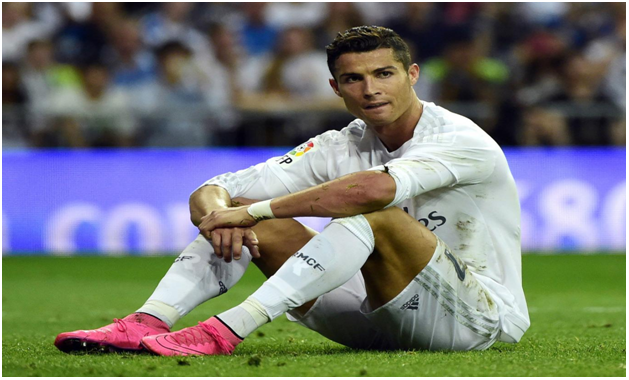 It's been nearly a decade long rivalry of whether it's been Messi or Ronaldo that have been ruling this era of football. Ronaldo started his career at Lisbon, and was identified by Manchester United players during their Europe fixture against the Portuguese side. The players didn't delay in telling Sir Alex, the then manager of Manchester United, how beneficial the young Portuguese winger would be in a red shirt. Signed in 2003 for a then record breaking 12.24 million pounds the highly epitomized winger scored just 6 goals. He was to succeed Beckham, and eventually went on to become bigger than David himself, scoring 87. Winning the ballon d'Or in 2008 and catching the attention of Real to which he made a move to for a then record breaking 80 million pounds, he has scored over 250 goals for them since.
Apart from winning the Ballon d'Or 3 times;
His Individual Brilliance (Individual World Records)
Most appearances in the FIFPro World XI: 9 times (2007-2015) (shared with Lionel Messi)
Most international goals in a year (club and national team): 25 goals(shared with Vivian Woodward & Lionel Messi)
First player to reach 40 goals in a professional league in two consecutive seasons
First player to score in every minute of a game
Only player to have won the following trophies at 2 different clubs: League Title, UEFA CL, League Supercup, League Cup, League MVP, Golden Boot, Ballon d'Or, and FIFA CWC (Completed on December 20th, 2014)
Only player in history to have scored 60 or more goals in a calendar year four times (consecutively from 2011 to 2014)
First and only player to appear in the FIFPro World XI for two different clubs
First player to score more than 50 goals in four consecutive seasons
Only player to score more than 50 goals in five different seasons (did it consecutively)
The debates will go on if it was Messi or Ronaldo, but immaterial of that Ronaldo is and will be one of the greatest players to have played the game.
-Demetrius Jacob