A Khadigram in Hudli village currently employs 25 women to make pickles – far below its intended targets. The Hudli Project aims to employ 100 more women by increasing awareness and demand for the pickles made in Hudli village.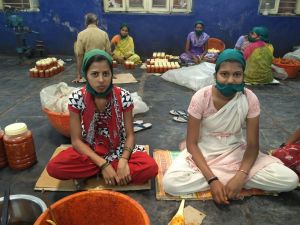 In Hudli, unemployment is a major issue. The villagers face constant uncertainty as to when and where their next income will come from, and they say this fear locks the ingenuity needed for individuals and villages to become self-reliant.
Khadigrams were started by Gandhiji to provide a Swadeshi  alternative to cloth produced in British mills. As it generated a lot of employment in villages, they branched out into manufacturing other labour intensive products like soaps, agarbattis, fruit pulp and pickles.
The Hudli Khadigram has the necessary infrastructure to employ 1000 people under it – currently 300 people are employed. Mr. Balakundi, the secretary of the organization, says they rely on 'agents' to sell its products, but they are few in number with limited reach. The limited demand prevents them from employing more people.
The Khadigram's pickle unit employs 25 women and pays them on a weekly basis. The pickles come in four flavors, and have received FSSAI certification for commercial sale. They have won recognition from the Karnataka government multiple times, as recently as 2011, for being among the tastiest pickles in the state. But it's likely that you have never heard of these pickles.
The pickles are being offered on  thehudliproject.com  in 12 and 18 month subscription packages currently – this is done to ensure money given by customers is focused towards creating jobs and making pickles, and eliminating the uncertainty of those employed for an entire year.
The Hudli Project is an experiment then – if rural manufactured food products are packaged and marketed well, would urban consumers buy them? If the answer is yes, they would have found a way to preserve traditional recipes, create jobs for unemployed rural women and empower them, create self-reliance in villages and find a way by which rural organizations can become sustainable.
So how has the response been? – In just 3 months of operations, we have already crossed the triple figure mark, received bulk orders across India, enquiries for collaboration with food delivery firms, and the buzz created by the video has reached multiple folks – with commendations from people in diverse fields like Farhan Akhtar, Shashi Tharoor and William Darlymple.
How is the initiative funded? – The project is bootstrapped currently. The founders are using their savings and since it is a subscription model, cash reserves have increased, and they will only become stronger. They believe that subscription models are the way for grocery focused e-commerce companies, and think that they might as well bite the bullet right now.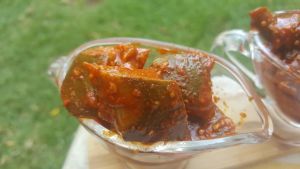 What are the plans for the future? – In the short term, the project will be visiting companies and connecting with patrons offline. In the long term, the website will feature more products from Hudli, connect more Khadigrams to this platform, and bring more villages under the ambit.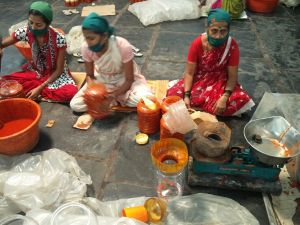 Who are the founders? – 3 folks who were consultants in Mu Sigma, the decision-sciences start up. They solved business problems for FORTUNE 100 retailers and CPG companies, and felt they should at least try helping out a rural organization solve a similar problem in a more complex business environment.
The Hudli Project is solving a problem that has held India back, and if they succeed, we would at least have an example to work with in the future.